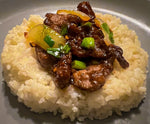 Flank Steak 
I don't know if you're anything like me, but I love to cook and I love to eat. I can get lost in cookbooks for hours. Sometimes I want to switch things up and try something new. I grew up in rural Vermont. We didn't have a whole lot of exposure to different kinds of food or methods of cooking. As an adult, I've enjoyed exploring that. Perhaps you're looking for something a little different too? I've come up with something that I think is relatively easy but incredibly delicious.  
First, I must introduce you to my little friend: flank steak. Until I started working for Red Barn Meats, I had heard of flank steak in passing but never really used it. Part of my job is knowing different cuts of meat, so I figured the best way to get acquainted with them is to actually cook them. Flank steak comes from the rear part of the belly of the cow. It is rather flavorful but chewy, so it needs to be cut very thinly on the bias (across the grain) for best results. It is frequently used in Asian cuisine.  That being said, here is a recipe that I think you should try. It'll be my dinner on Saturday night.  
Mongolian Beef 
1 ½ pounds Red Barn Meats Flank Steak

 

 Salt and pepper to taste 

 

1 ½ teaspoons Italian seasoning 

 

¼ cup corn starch 

 

½ cup Hoisin sauce

 

2 tablespoons soy sauce

 

 1 tablespoon brown sugar

 

¼ cup beef broth 

 

6 tablespoons vegetable oil

 

 1 medium onion, minced 

 

4 cloves garlic, minced

 

1 teaspoon minced fresh ginger 

 

¼ teaspoon red pepper flakes 

 

¼ cup chopped green onions plus more for garnishing

 
Cut flank steak against the grain into very thin strips. Place in a medium sized bowl and add salt, pepper, Italian seasoning, and cornstarch. Toss to coat meat thoroughly. Mix hoisin sauce, soy sauce, and brown sugar together and set aside. Heat oil over medium high heat in large nonstick pan and add meat. Do not crowd pan. Takes about 3 batches. Cook meat until golden brown. Set steak aside. Reduce heat to medium and add onion. Cook for 5 minutes, or until caramelized. Add in garlic, minced ginger, and red pepper flakes. Cook for about 1 minute. Add meat and green onions and toss together. Cook for one minute then add sauce. Stir and cook for one more minute. Serve with white rice. Garnish with green onions. 
Happy New Year from all of us at Red Barn Meats!!